Home of the AWF Headquarters, the Alabama Nature Center and Historic Lanark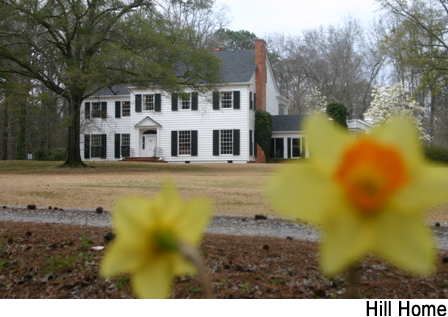 Thanks to the efforts of the AWF Board
of Directors, past presidents, key support
ers and the gene
rosity of Isabel Hill and her family, AWF opened its new
headquarters at Lanark on March 10, 2003
. The Lanark property is
locat
ed in
Millbrook, Alabama just 10 miles north of
Montgomery and only a couple of miles from I-65.
The headquarters of the oldest and largest citizen's conservation organization in Alabama is now situated intim
ately amidst the very resources it has worked so long to conserve.

We have recently fulfilled the underlying vision shared by AWF and the Hill Family t
hat led to AWF becoming caretaker of the property. That vision was to establish a world-class
cons
ervation education center that allows AWF the opportunity to teach children and adults about wise-use and res
ponsible stewardship of our wildlife and related natural resources; while at the same time, preserving and sharing
the legacy created by Isabel and Wiley Hill and their efforts over the last
50 years. This has been accomplished through maintaining the beautiful landscape at Lanark and developing a world-claa outdoor facility at Lanark known as the Alabama Nature Center
.

To write about Lanark is one thing, to feel its full impact you must experience it through sight, sound, and smell. We hope the pictures that appear on our website at least begin to give you a small sample of the visual experience. When you experience it in person you will be astonished by its beauty.
---
Isabel and Wiley Hill moved to Lanark from Montgomery as newlyweds in 1948. They built their 3-room house in a corn field across a stream from the original antebellum home and spent the next fifty years enlarging their house and creating the surrounding 30-acre garden, producing one of the most beautiful gardens in Alabama.

Wiley's enthusiasm
for gardening started by getting involved in
grafting camellias and winning many blue ribbons. Isabel then became interested in daffodils and began her life-long love affair with bulbs, generating thousands of various types of daffodils spreading along the tree lined drive-ways. She began her other passion with hydrangeas by taking plant cuttings from her mother- in law, Elisabeth Thigpen Hill. Isabel propagated enough blue hydrangeas to encircle one of the three ponds on the property with the rest scattered throughout the pathways leading in and around the main house. Isabel loved all seasons, and created a natural display for the whole year.

Wiley Hill passed away in 1995. Isabel continued to care for their home and gardens until her death in 2001, when she left both houses, the gardens, and the surrounding 300+ acres to the Alabama Wildlife Federation. The gardens will be maintained as Isabel wanted them to be.

The original Lanark home began as a cabin built by Peyton Bibb in 1827. The house passed to the Hall family, who continued to enlarge and expand the original building. In the late 1920s, Dr. Charles Thigpen, Wiley Hill's grandfather, purchased the property. It was then passed down through the generations to Wiley and Isabel, who tended, improved, and expanded Lanark, bringing it to its present state.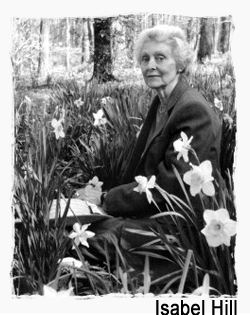 The gardens at Lanark, covering more than thirty acres, represent a lifelong labor of love by the Hills. Centered on a formal lawn, Lanark's gardens include wooded paths, streams, lakes, lawns and bridges. The gardens, designed as a year-round presentation, produce a grand show in the spring with flowering fruit trees and daffodils, in the summer with thousands of hydrangea bushes, in the fall with maples and sycamores, and even in the winter with camellias and evergreens.

Some of the other plants at Lanark include narcissus, oak leaf hydrangeas, azaleas, redbuds, dogwoods, pansies, trillium, tulips, day lilies, French hydrangeas, tree hydrangeas, ginger lilies, wild azaleas, tall phlox, wood phlox, ornamental cherry and peach trees, forsythia, magnolias (including Japanese and big leaf), tea olives, crape myrtles, Stokes asters, black-eyed susans, Mexican sage, hyacinth bean vine, jasmines, snowball bushes, tuberoses, and numerous wild flowers.