About the Alabama Nature Center
Directions
|
Join a Club
|
ANC Conservation Education Programs
|
Events
|
Photo Gallery | Sponsors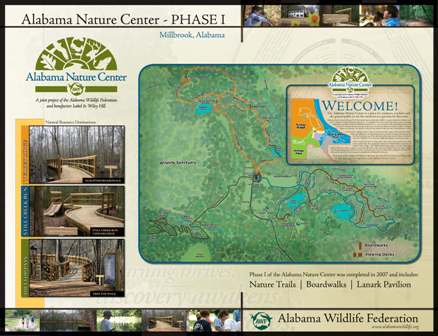 Through the efforts of the Alabama Wildlife Federation and the Hill Family, a not for profit entity known as the AWF Isabel and Wiley Hill Conservation Education Center (AWF-IWH CEC) was formed. The Lanark Estate was conveyed to the AWF-IWH CEC to provide for long-term stewardship of the property and development of an outdoor education facility that is now known as the Alabama Nature Center.
The Alabama Nature Center, located at Lanark in Millbrook, Alabama, is a Planned-Use Outdoor Education Facility offering hands-on, outdoor-based educational programs and activities for students, educators, church and civic groups, and the general public.

Lanark and the new Alabama Nature Center contain 350 acres of striking forests, fields, streams, wetlands and ponds that are traversed by five miles of boardwalks and trails in three regions: Still Creek Run, Turkey Ridge, and Hilltop Pass.

The Alabama Nature Center is reserved for school field trips, teacher training workshops, seminars, and other educational programs that are scheduled in advance with the Alabama Wildlife Federation. Interested groups can choose from programs designed by our staff, or we can customize programs to meet your needs.

With the completion of Phase I, we now have five miles of trails and boardwalks to explore along with a new 4,000-square-foot outdoor pavilion.

Enjoy the Alabama Nature Center
---
There are many ways to enjoy the outdoors. Take advantage of everything the Alabama Nature Center has to offer:
Get Outdoors (GO) on the Weekends (every third weekend of the month)
Additional General Public Bonus Days
Lanark Field Days (customized field trips for Alabama Schools)
Special Educational Programs for all ages on Get Outdoors (GO) on the Weekends
Lanark Pavilion available for rent
Fishing available for organized groups such as church groups, school groups, scout groups, senior citizen groups, and other such groups for a small fee
21st Century Programs (Afterschool conservation education programs)
Wildlife Seminars

AWF ALABAMA NATURE CENTER PARTNERS






THE CURTIS and EDITH MUNSON FOUNDATION